THE 3 MAIN TYPES OF INSTALLATIONS
If you have an exisiting chimney which might be operational or perhaps its boarded up, we are still able to open it back up and install a wood burning stove. These are generally your cheaper installations as we have a chimney already in place. Its then up to the customer and ourselves if we need to renew anything. In most cases the liner, hearth and cowels would be included in our packages, you then have the option for beams, mantels, chambers and lighting packages (more on this later)
Generally for customers without a chimney, you'll find these types of installations in sunrooms, conservatories, living room corners and summer houses. A twin wall flue system will be needed, these systems are extermely safe and will come in more expensive than the stove in most cases, so factor this into your budget. Just because you don't have a chimney doesn't mean you can't have the look of a chimney breast(as in picture 1), you can but more on this later down the page.
Inset stove installations can be a little tricky and may require some additional joinery work(which we do) if your exsisting chimney isn't deep enough to hold your stove. These stoves sit flush with the wall and are generally above the floor, centre of the wall. Now, just as mentioned above, just because you don't have a chimney, doesn't mean we can't construct one for an inset installation.....we can(more on this below)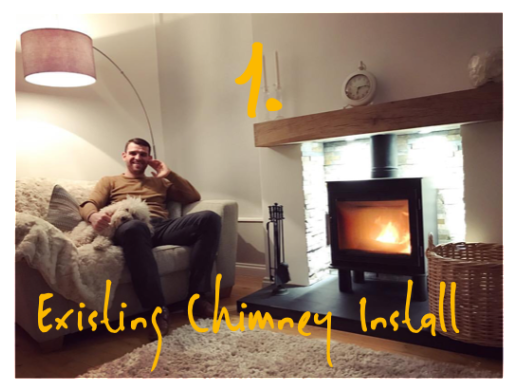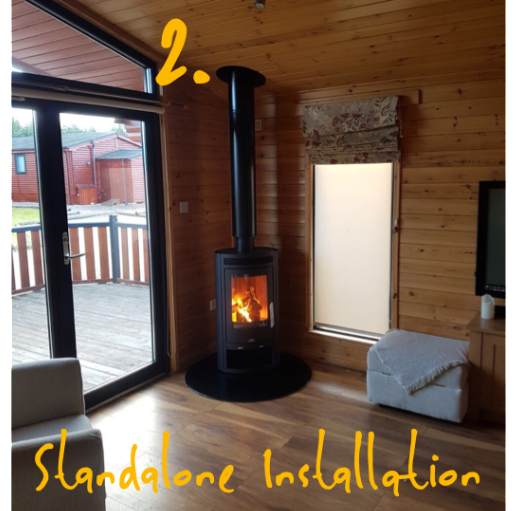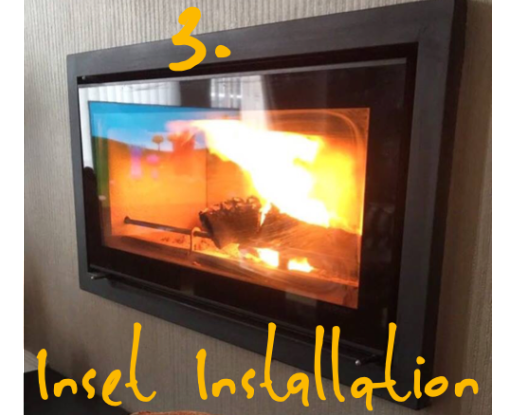 FREE EBOOK - 5 THINGS YOU REALLY MUST KNOW BEFORE BUYING A WOODBURNING STOVE!
Thanks! we'll be in touch real soon!
This field is required
This field is required
---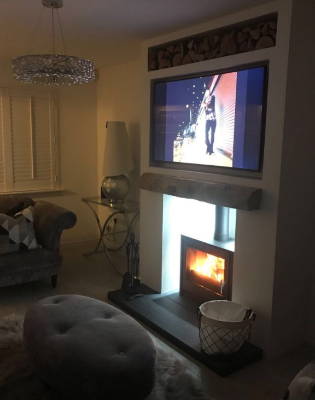 NO CHIMNEY?.....NO PROBLEM!
The installation on your left(or below if your on mobile/tablet) was constructed from a bare wall. Mrs Cherry came to us early 2017, looking for a woodburning stove and wanted the look and feel of a real chimney, with the stove sitting in the inglenook as she wasn't entirely taken on by the standalone look with twin wall flue showing.
So how is it possible?
We simply install a twin wall flue system, but construct a false chimney wall to inclose the flue system. Now these installations come at a cost, you need to factor in the twin wall flue system, joinery work and generally its a 2/3 day installation. You can add beams, mantles, chambers(more on these down the page), lighting packges, log stores and tv insets. Again these require the most amount of work but if you require the look of a real chimney, this gives you the opportunity to get what you want and we take care of the full project for you.
FREE HOME DESIGN & QUOTE SERVICE
Thanks! we'll be in touch real soon!
This field is required
This field is required
This field is required
This field is required
If you have an existing chimney, then you'll need a liner to go with your woodburner in most cases. If you have a current liner then its up to your installer if it stays in or not but it must comply with Hetas and it needs to be suitable for burning solid fuel(you can't use a gas liner for a wood burner for example!).
When you install a new liner it comes with a warranty so its always best to install a new stove with a new liner for efficiency reasons and warranty! Our German liner Schiedel, is an award winning liner, its safe, easy to install and it comes with an unbeatable lifetime warranty. Be careful of those cheap installations with chinese liners and products, your dealing with your own life and of course anyone who lives in the property with you!
For those of you who don't have an exisiting chimney and as discussed above you can still have a woodburner installed but you will require a twin wall flue system as its the safest and most efficient system (don't let anyone install a single skin flue). We use German made ECO ICID from Schiedel and it also comes with an unbeatable lifetime warranty.
So as you can see from image 1, your flue can go straight up through the house and in most cases this is achievable. This allows us to create the flase chimney breast to hide the flue inside the home, allowing you to get the full effect of having a your woodburner built into a chminey which gives you plenty of options for some really modern features (chambers, lighting and beams). Not to sure about the flue going up through the house.......
If its not possible to take the twin wall system up throught the property, then we can take it out through and external wall as seen in image 2. Its a more expensive way to do it but not everyone can or wants to take the flue up through the house.
3. BUNGALOW & CONSERVATORY
Can you install a woodburner into a conservatory? Yes of couse we can and although image 3 is showing a bungalow, its the same approach with a conservatory and we are able to accomodate any roof type as the flue needs to go up through the roof.